How to create your own artwork with Air Plants!
Air Plants are My New Canvas
A fun member of the pineapple family, you might have seen these wonderful plants hanging in terrariums, tethered to rocks, or roped from the ceiling.
For me, this idea struck just as I was staring at my apartment walls. I couldn't help but think they need something! Sure, posters have already claimed 2/3rds of the white… but how could I make it homey? The walls cried out for green, I decided to deliver.
Living plants that do not need soil or water… it's time to be creative! I have become an Air Plant
Artist!
For the Brown Thumbs
Air Plants get all of their nutrients and water through their leaves. Which is very appealing for those who live for minimal worrying for their green babies. Although they don't need a lot of attention, basic care is needed.

Bringing Out the Easel
Without an artist, an easel is nothing. Sticking to those rules, without an air plant, a terrarium is nonexistent. Here's how I "air plant it up"!
Terrific Terrariums help make me an air plant artist!
Now here I am!

Wooden Wonders


Check out NoFarmNeeded on Etsy!
Graceful Gliders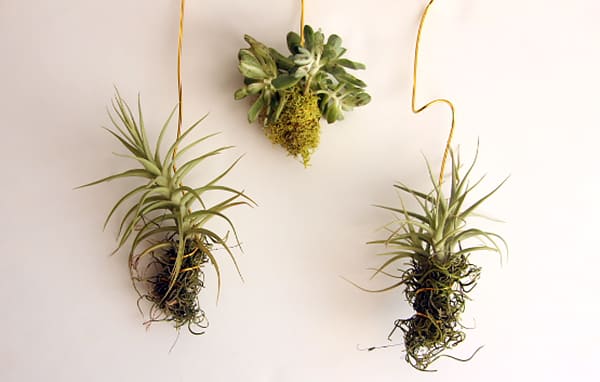 Roped and Wired
Viewing Your Work
As I sit eating breakfast with a warm tea in my hand, my eyes travel around the apartment. There's artwork plastered across my white barren walls showcasing work from both Van Gogh and Pablo. While hanging right next to them are my graceful gliders and wooden wonders, housing air plants that glimmer in the light. Want to add some artwork to your tables and ledges? How about succulents? Here's a quick guide on how to create your own Succulent Haven.
I grin.
My plants, my art, have combined as one.